LOW FU FITNESS
The Beautiful Workout
Classes, Training Day & Low Fu Colours >
LOW FU DVD
The perfect gift
Buy your copy >
LOW FU DOWNLOAD
Low Fu Fitness workout
From iTunes straight to your device >
TRAINING DAY
The total Low Fu experience
A one day special event >
CERTIFICATION
Join the Low Fu Team
Become a Low Fu Fitness Teacher >
LOW FU KUNG FU
& KICKBOXING
Classes, Kids, Grading & The Challenge >
KIDS & PEEWEES
Martial arts classes for children
Epsom, Chessington & Reigate >
BUY CLOTHING
Look the part
Gi, hoodies, Tshirts & more >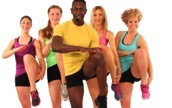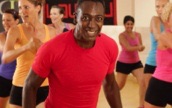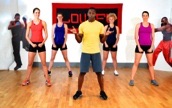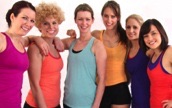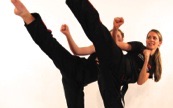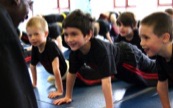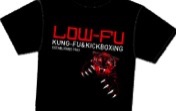 Club Energize TV Workout 21: Get An Amazing Butt
Published on Oct 2, 2016
The back kick is the most devastating technique for toning the rear end. With wave after wave of rapid kicking, the back kick does not just tone your gluts but drastically re-shapes your entire leg.
In order to keep the whole body safe, particularly the lower back, and to ensure maximum penetration on the kick, a chair is used to brace your body. Even when working on specific parts of the body Low Fu Fitness is a whole body workout. Rest assured your abs, back and chest are also engaged in exercise throughout Club Energize TV Workout 21: Get An Amazing Butt.
Duration: 10:04
Club Energize TV Workout 22: Lean Body, Lean Uppercut
Published on Oct 9, 2016
Noél Michael Smith, along with Brigitta and Mercedes, take you through this fun and simple to follow, short workout. You don't need much room, just a set of 1 kg weights or lighter, or an equivalent. Noél's favourite saying, when doing the uppercut, "this exercise alone keeps me trim."
All you need to do is try this workout just once, and you will be hooked and want more. These exercises target your waist, abs and back like no other; the added bonus is great arms as well.
Duration: 9:52
Club Energize TV Workout 23: Pure Abs
Published on Oct 17, 2016
Noél Michael Smith, creator of Low Fu Fitness, brings you the infamous Low Fu Fitness Abs Workout; stomach exercises that work and get results.
Noél has been using these particular abdominal exercises since 1988. Thousands of people throughout the UK have benefited, with a lean, firm and flat stomach to show for it.
Duration: 8:22
Club Energize TV Workout 19: Tone your Arms In Record Time
Published on Sep 18, 2016
The cross punch, boxing's most powerful punch, is often referred to as the reverse punch in Kung Fu, Karate and Tae Kwon Do.
Noél Michael Smith teaches this punch as only he can in the formidable Low Fu Fitness way. Repetitive and rapid punching triggers your arm muscles into shock, ultimately leading to toned, firmer and leaner arms.
Duration: 8:45