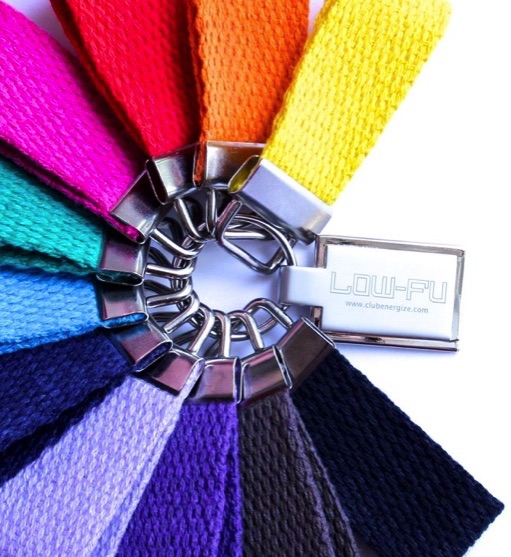 Low Fu Colours
The motivation and focus you need to become fitter!
Earn 11 Low Fu Colours by learning martial arts techniques and entering online.
Low Fu Colours cleverly takes the concept of martial arts grading into the world of fitness and enhances your Low Fu Fitness workout. It's totally convenient and you can enter Low Fu Colours from the comfort of your own home via online videos.
Whether you attend Low Fu Fitness classes, workout with Club Energize TV, or use Low Fu Fitness DVD, Low Fu Colours adds a new dimension to your training. You can workout more effectively and ensure longevity in your fitness journey. With a clear structure and 11 easy steps, you can progress at your own pace and fit training around your lifestyle. Use the Low Fu Colours demonstration videos below as your guide to achieving the perfect technique and enter each Low Fu Colour by submitting your own video online.
You will start to feel the benefits of good Low Fu Fitness technique as soon as you start to progress through Low Fu Colours. You will burn more calories per minute and achieve better body tone as you apply your new and improved Low Fu Fitness technique to your Low Fu Fitness workouts.
We give you fitness tutoring and expert advice and will guide you through your Low Fu Colours journey. On completion of Low Fu Colours you are equipped for entry onto Low Fu Certification.
You will look forward to showing your friends your Low Fu Colours keyring tags - they are the perfect record of success with Low Fu Fitness.
CERTIFICATION
Join the Low Fu Team
Become a Low Fu Fitness Teacher >
TRAINING DAY
The total Low Fu experience
A one day special event >
FITNESS REWARDS
Low Fu Fitness Membership
Priority booking & discounts
LOW FU DVD
The perfect gift
Buy your copy >
KIDS & PEEWEES
Martial arts classes for children
Epsom, Chessington & Reigate >
LOW FU KUNG FU
& KICKBOXING
Classes, Kids, Grading & The Challenge >
CLUB ENERGIZE TV
Free Online Workouts
Low Fu Fitness in your own home >
BUY CLOTHING
Look the part
Gi, hoodies, Tshirts & more >
LOW FU COLOURS VIDEO DEMONSTRATIONS